Kingsford Smith Aviation Services PL-7 Tanker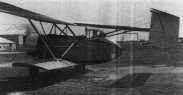 After developing the KS.1, KS.2 and KS.3 Cropmaster series based on converted CAC Wackett airframes, Kingsford Smith Aviation Services enlisted the innovative design talent of Luigi Pellarini to create a new agricultural aircraft "from the ground up".
The result was the Kingsford Smith PL-7 Tanker, a purpose-designed twin-tail pod-fuselage sesquiplane (an ancestor of the Transavia PL-12 Airtruk, also designed by Pellarini). Powered by a Armstrong-Siddeley Cheetah engine of 400 hp, this was a large aircraft with a wingspan of 40 feet 9½ inches.
The PL-7 (the 7th aircraft type designed by Luigi Pellarini) was the first in a fascinating series of purpose-designed agricultural aircraft by Pellarini.
The next evolution was the PL-11 Airtruck, built by Bennett Aviation in Te Kuiti, New Zealand. This design continued with the twin-tailed approach to enable easy loading of the hopper, and also featured the sesquiplane layout, but the lower wing was significantly smaller. Once again Pellarini developed a large and powerful aircraft for agricultural work, with a wingspan of 48 feet powered by a 500 hp Pratt & Witney R-1340 Wasp engine (from war surplus Havard trainers). Extensive information on the PL-11 can be found on the Wings Over New Zealand Aviation Forum.
The final development in this "series" was the PL-12 Airtruk (no "c" in the spelling), built by Transavia in Sydney, Australia. Once again this was a completely new design, but following the same principles. A smaller aircraft this time (39 feet 3½ inches wingspan) it was powered with the more common Lycoming IO-540 engine, providing 300 hp. More information on the PL-12 can be found on Wikipedia.
3-view drawing:
This drawing shows basic outlines of the PL-7 Tanker.
PDF for A4 paper (17 KB)